Ashley Whitehead
Mindfulness Keynote Speaker
Ashley Whitehead is a Corporate Leader, Trainer, Mental Health Ambassador and Speaker, whose mission is to empower individuals with the tools they need to fuel their bodies and minds. With 17 years of experience in the fast-paced world of medical technology. Ashley knows first-hand the habits you need to achieve a healthy work-life balance.
With a degree in physiology, sport science and nutrition, Ashley offers practical and actionable strategies to help increase your energy levels, nourish your body and rediscover your zest for life. Ashley's guidance will fuel you from the inside out to improve your overall wellbeing.
Book Ashley
"To feel better and live more, we need to correctly fuel our body and mind, so that we can truly thrive."

Ashley Whitehead

Fuel Up
How to feed your mind and body to thrive.
In this workshop, Ashley will guide your team through simple, yet effective changes to their diet and routines for better health, happiness and success. By equipping your team with healthy habits that nourish their bodies and minds, they can increase their mood, energy and performance to achieve their full potential.


Topics:
• The Gut Brain Connection
Finding Balance
How to lower stress and restore balance.
Is your team constantly being pulled in multiple directions, struggling to find balance in their lives? In this workshop, Ash will share simple steps that your team can take right away to restore harmony. They will learn mindfulness tools that will not only help reduce stress but also cultivate resilience, enabling them to prioritise their mental and physical wellbeing.


Topics:
Corporate Workshops
Our workshops provide real time tools for corporate professionals and executive leadership teams.
View Virtual Workshops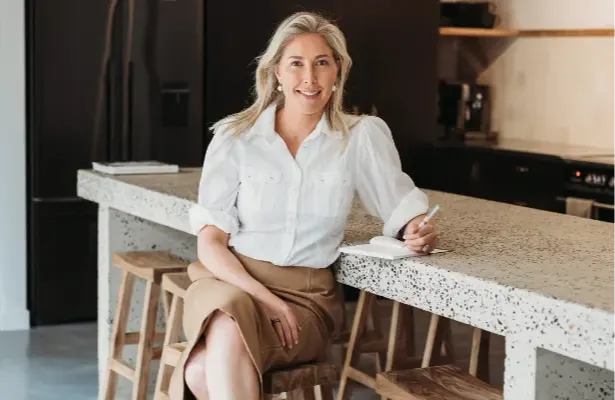 Goal Setting & Visualisation
WITH CHELSEA POTTENGER

How to make, visualise and achieve effective goals. In this workshop, we share research and techniques to deliver your goals.
Make a booking with EQ Minds
Some of the clients we have worked with
Join our EQ Minds Community
Get a regular dose of calm, straight to your inbox